COOMBSVILLE RISING
Tucked off the Silverado Trail east of Napa and dotted with family farms and pocket vineyards, Coombsville is one of the region's best-kept secrets. Its distinctive topography, soils and weather patterns—perfect for producing fresh, vibrant wines on the cutting edge of Cabernet style—lured us to put down roots here more than 20 years ago, with Faust Vineyard. But in the decade since Coombsville was named Napa Valley's newest nested AVA (American Viticultural Area), this low-key arc of rolling hills has become a magnet for a new generation of adventurous winemakers crafting wine of exciting balance and beauty, and for buyers seeking more modern iterations of Napa reds.
Though largely unsung beyond the wine world, Coombsville's history is defined by visionaries and mavericks. Nathan Coombs, a Massachusetts transplant, acquired parcels of land here before laying out the town of Napa in 1847. Wine soon made its mark: in the 1870s, three Carbone brothers—Napa's first Italian immigrants—built a ranch in the hills, where they also tended grapes. And in 1889, Cedar Knoll Winery, launched by Henry Hagen (the site of today's Palmaz Vineyards), stunned the wine world when one of its bottles took a silver medal at the Paris Exposition.
The first modern vineyards were planted in the mid-1960s to Chardonnay and Pinot Noir, as the area was considered too cold to ripen Cabernet Sauvignon and its Bordeaux cohorts. But in the late '70s, Frank Farella and his son Tom defied common wisdom and planted Cabernet Sauvignon on a parcel carved out of Coombs' old properties. Former shoe salesman John Caldwell then mitigated risk with science: tracking temperatures, he found Coombsville to be warmer than Bordeaux during the growing season, and in the early '80s he, too, planted Cabernet—from clones he allegedly smuggled in from France—supplying some of Napa's top winemakers.
Agustin and Valeria Huneeus were pioneers in their understanding of soils and viticulture, and Faust became a leader on the Cabernet front, with the purchase of the old Lewis Dairy Farm in 1998—forming a vineyard with 113 acres planted to vines. With the arrivals of celebrated winemakers Andy Erickson of Favia Wine and Paul Hobbs, on the old Nathan Coombs Estate, excitement has continued to build for this unique region.
Nestled in a caldera formed by the collapse of an ancient volcano, Coombsville is ringed on three sides by the Vaca Range. During the growing season, fog and marine breezes from San Pablo Bay swirl into the caldera and burn off late, keeping Coombsville up to 10 degrees cooler than AVAs to the north. The marine influence brings an early bud break, while cool conditions lengthen the fall harvest, giving winemakers an enviably long growing season and the option to let the fruit hang to develop complexity and mature tannins without losing critical acidity. Soil composition is as essential to the AVA's cachet as its exposures. A mix of underlying ash and overlying, mineral-rich gravelly loam and volcanic rock—the former retaining moisture for roots that run deep; the latter draining well, to stress the vines as needed—create natural balance.
Coombsville Cabernet Sauvignon is a story of power couched in elegance, significant but fine-grained tannins, pure and focused dark fruit and an earthiness that expresses the character of the land itself. This is the potential that Faust's founders saw in this place, and that we have realized in our flagship, The Pact.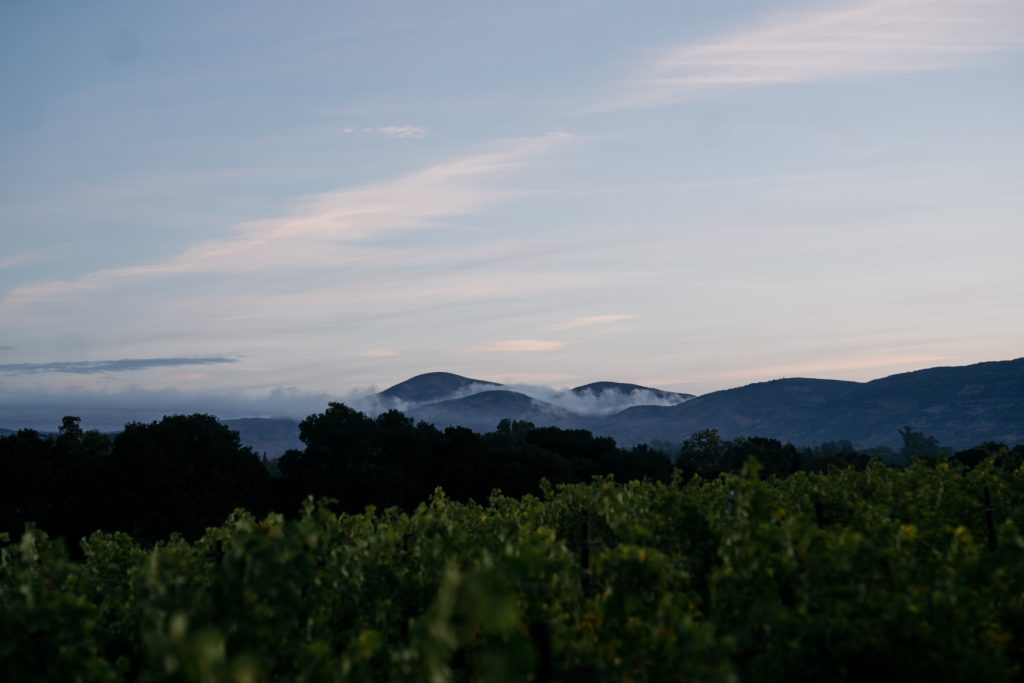 A NATURAL DIVERSITY
Our wine is a pure expression of our land. In 1998, when Valeria and Agustin Huneeus first walked the rolling hills of this erstwhile dairy farm, they saw a parcel of stunning natural beauty. Ancient valley oaks dotted ridges and swales. Seasonal streams transected the landscape, nurturing myriad forms of wildlife: deer, of course, but also bobcats, foxes, coyotes, geese, and a host of other birds.
Today the water, coursing through the streams and in the winery's vital pond, nurtures vineyards, too, moderating extreme temperatures and standing by for frost protection. The afternoon sun hits west-facing slopes, sending the warmth that late-ripening Cabernet Sauvignon craves. And volcanic soils from ancient eruptions—a layer of ash that holds moisture and draws roots deep, topped by mineral-rich gravelly loam and volcanic rock—combine with Coombsville's cool climate to create wines of visceral freshness and minerality.
"We're in the Goldilocks zone," says winemaker David Jelinek, explaining the confluence of complex forces on the wine. "We have a cooler site but volcanic soil, which allows us to extend the growing season. That means a long time to develop depth of flavor without the grapes getting too ripe."
Preserving the natural diversity within our Faust Vineyard—at 128 acres total, a prominent swath amidst Coombsville's patchwork of tiny, family-owned vineyards—is more than a mission for our team. It is our passion, as we farm vines that are perfectly in tune with the elements—drawing energy from the vibrant life that is their habitat, above and below ground. And shaping pure and vivid Cabernet—balanced on a pinpoint between sweet fruit and savory minerality—is our way of joining forces with the land that inspires us.
AMONG THE VINES
It was a wise farmer who said, "The most important thing you can apply to a vineyard is your shadow." In our Faust Vineyard, we farm precisely, but with the gentlest organic methods to amplify our wines' fresh profile and natural balance.
Recognizing the ideal conditions for growing elegant Bordeaux-style wines in Coombsville took foresight on the part of our founders. It was far too cold here, most believed at the time. But instinct led to the conviction that Cabernet Sauvignon, in this climate and in these soils, would develop lovely ripe fruit and retain beautiful acidity. Indeed, the morning fog lifts late in our southern pocket of Napa Valley, keeping the summer air cool. But when it does, the gravelly loam and rocky volcanic soils warm quickly in the afternoon sun, ripening Cabernet at a slow, steady—optimal—pace.
So, our shadows track across the vineyard with the sun, our boots always on the ground. Our team relentlessly watches, records, tastes and learns. What gets us up in the morning is the work of understanding what our vineyard is capable of doing, how it does it, and how we can draw out its finest results. In winter, our sheep range through the rows too, grazing and fertilizing as they go.
Only the most interesting blocks make their way into The Pact, with fruit both intense and plush, but also marked by sophisticated minerality. We first parsed these high-performing sections of vines by tasting, but recent soil studies have, in fact, confirmed our findings, sometimes in complex amoeba-shaped blocks that we farm, pick, and vinify separately for our flagship Cabernet Sauvignon.
Our goal for The Pact is a degree of density, even richness, kept light on its feet (which is not to say light-bodied) by freshness. The Pact is at once complex and hedonistic—with exact balance we coax from the vineyard.